"Woke up one morning, age was on my mind."
Aging Artfully: 12 Profiles: Visual and Performing Artists Aged 85-105 is about the twelve women actively engaged in the arts who inspired this work and about promoting positive healthy aging for the general public. Illustrated with 100+ photos of the lives of the San Francisco Bay Area women who demonstrate optimism, the book challenges stereotypical perceptions and expectations, and documents that old age can be gratifying and filled with creative expression. Gorman won a coveted IPPY Award for her book in the category of Women's Issues. See reviews of Aging Artfully on our Media page.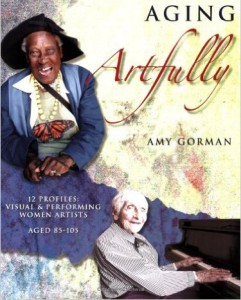 Whether you call it healthy aging, creative aging, aging gracefully, successful aging or just plain aging well, the women artists in the book are exemplary role models for all of us. Frances Kandl, friend and musician, introduced Gorman to Lily Hearst, almost 105, who became the first interviewee. Then Gorman met Greg Young, a Boomer just in retirement from UC Berkeley. He had recently finished a documentary of the eccentric Mary Beth Washington, a storyteller on the Aging Artfully cover, and he was ready for his next film. Still Kicking emerged as a film which follows 6 of the 12 women in the book all over 90. It's now available on DVD and as one male viewer described it, "I'll never look at an old woman the same way again. You never know what's behind that face."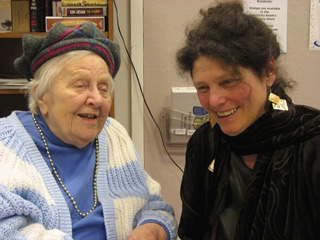 We mourn the losses of Faith Petric on October 25, 2013, at age 98 (born September 13, 1915), Frances Catlett on April 22, 2014, at 105 (born July 3, 1908), Mary Beth Washington on September 4, 2014, at age 93 (born April 4, 1921), and Elsie Ogata on September 21, 2015, at age 103 (born August 20, 1912).