Read reviews of Aging Artfully, the book, listen to radio interviews with Amy Gorman, and view testimonials written by conference presenters and attendees.
---
Reviews
Age Venture News, Mozarts of Maturity: Longevity is a Work of Art, reviewed by Dr. David J. Demko
Story Circle Book Reviews, reviewed by Trilla Pando
San Francisco Chronicle, Catlett Celebrates Century of Aging by Pam Grady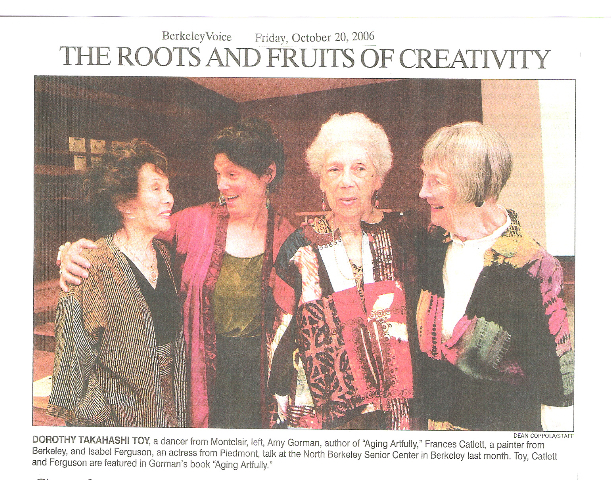 "…amazing portraits of creative women aging artfully. A companion DVD, Still Kicking, by Greg Young follows the life stories of 6 of the 12 women ….Here is a remarkable collaboration to illustrate the power of involvement in the arts. "Aging Artfully" is such an uplifting experience, it should be shared with persons of many ages and occupations."

-Jim Cox, Midwest Review

"What could be more inspiring than artists whose craft sustains them as they age?"

–Kathleen Grant Geib, Contra Costa Times Review
---
Interviews
Listen here to Amy Gorman's interview on the NPR program To The Best of Our Knowledge by Anne Strainchamps.
Listen here to an interview on Roberta Teller's Wise Woman Storytime radio program on KOWS 107.3FM, posted May 12, 2015.
---
Testimonials
"We are so honored to have you speak to our group! Your wealth of knowledge makes a lasting impression on everyone who attends, and helps shift attitudes on creativity in aging."

— Brenda Morgan, Portland, Oregon, EldersInAction.org

"Outstanding, thought-provoking presentation. The time flew by! The speaker is knowledgeable, skilled and entertaining. Highly recommended for any group addressing issues of aging."

— Victoria Stone, Regional Coordinator, www.agesong.com

"Amy's upbeat presentation about how to live well into later years was terrific. When the DVD, "Still Kicking" was shown to my City College San Francisco Mental Aerobics class, they applauded wildly at the end, and we had a very lively discussion."

— Hope Levy, LifeLong Learning Educator, San Francisco.